Pre-Registration for LiveStream
September 14, 2020
/
/
Comments Off

on Pre-Registration for LiveStream
Annual Sickle Cell Disease Therapeutics Conference Livestream holds on September 15, 2020
Let the registration for Livestream countdown begin!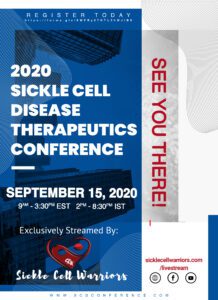 Sickle Cell Warriors, Inc. (SCW) is excited to partner with Global Blood Therapeutics (GBT)/ They will host the annual Livestream of the 2020 Sickle Cell Disease Therapeutics Conference (SCDTC).
Therefore, learn about the latest advancements and clinical research in sickle cell disease. However, this is our 4th time partnering with GBT for this event.
For the first time ever, the SCDTC Livestream is Global! Join us! In addition, you can watch it anywhere you have internet.
Registration for Livestream Starts Now
We will be live from 9:00 am to 3:30 pm EST on Tuesday, September 15, 2020.
Secondly, on Tuesday, visit any of these special portals to access the event
In sum, see you there!
Here's more about GBT:
"Our commitment to the SCD community
We are driven by a deep and urgent desire to improve the care of SCD patients. Beyond developing medicines, we are working to shine a bright light on the disparities and inequalities faced by people living with SCD. To this end, in July 2019 we launched Sickle Cell Speaks, a national campaign focused on breaking down stigmas associated with SCD.
GBT seeks to improve the lives of those with sickle cell disease (SCD) by combining focused science with compassion and collaboration. Our deep commitment to partnering with and advocating for the sickle cell community has been our guiding light since the beginning. First and foremost, we prioritize listening to and understanding the perspectives, interests and challenges patients face so we can develop important new investigational treatments and support access to care. We work with patient communities and healthcare providers to transform the quality of the care provided to people with SCD."