Learn more about the Hibiscus Study
September 3, 2021
/
/
Comments Off

on Learn more about the Hibiscus Study
Learn more about the Hibiscus Study
Clinical trials are critical to finding new or improved treatments for diseases. By participating in a clinical trial for sickle cell disease (SCD), you could help researchers better understand the disease or find new treatments that can be given to SCD patients in the future.
About the Hibiscus Study™
The Hibiscus Study is enrolling adults and adolescents 12 to 65 years old with a clinical diagnosis of SCD. The primary purpose of the study is to evaluate the safety and effectiveness of an oral investigational medication for SCD.
The investigational medication is being tested to see how well it works to improve anemia and reduce the number of pain crises per year. The investigational medication is given as two tablets taken one time per day. The study length is 52 weeks, followed by an optional additional 52 weeks, if you choose to stay enrolled. Study-specific investigational medication or placebo, study-specific medical exams and laboratory tests are available to you at no cost. Reimbursement for time and travel, as well as transportation to and from your study visits, may also be available to you.
Eligible participants must meet the following criteria: *
Be 12 to 65 years of age.
Have a confirmed diagnosis of SCD.
Have experienced more than 2 pain episodes (vaso-occlusive crises) within the past 12 months, but not more than 10.
Be willing and able to follow all study requirements and study visit schedules.
*Additional eligibility criteria will apply, and a study doctor will explain this information to you.
Learn more to see if you or a loved one may qualify.
If you are interested in learning more about the Hibiscus Study or to see if you or your adolescent child may be eligible, we encourage you to visit the study website at hibiscusstudy.com/SCW. If you know others affected by sickle cell disease, we invite you to pass along this information.
Click HERE to learn more about the Hibiscus Study.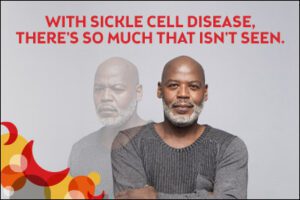 (FOOTNOTE)
1. mayoclinic.org/diseases-conditions/sickle-cell-anemia/symptoms-causes/syc-20355876
Accessed: February 16, 2021